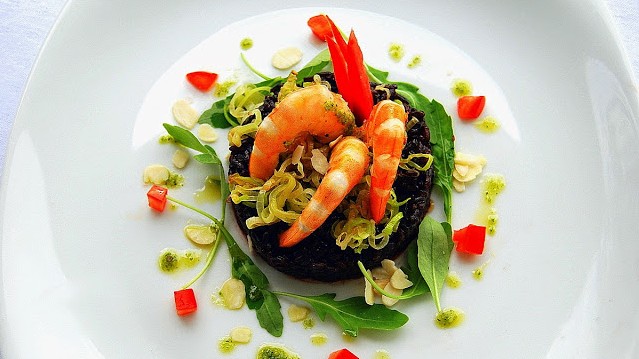 Recipe
Venere rice with leek, shrimp and rocket salad cream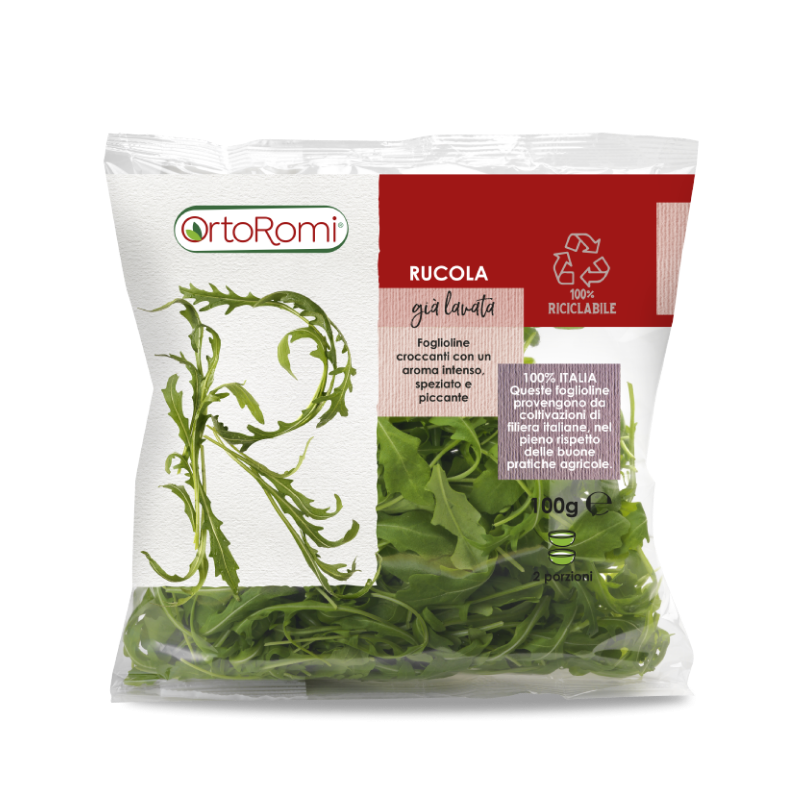 Ingredients for 4 people:
---
300g of venere rice
12 prawns
100g of OrtoRomi Rocket salad
1 tuft of OrtoRomi Basil
1 leek
1 carrots
1 clove of garlic
Laurel
1 shallot
1 tablespoon of grated Parmesan cheese
1 tablespoon of flour
1/2 glass of white wine
1 coppered tomato
2 tablespoons of almonds
1 tablespoon of Shichimi togarashi
Salt
Extravirgin olive oil
---
Preparation time:
100 minutes
Cooking time:
120 minutes
---
Preparation
Clean the prawns, remove the head and the carapce, then remove the central gut. Chop the carrot and some slices of garlic, brown them in a pan with a drizzle of extra virgin olive oil, together with the bay leaf, add the heads of the prawns and the carapace, toast over a gentle heat for about ten minutes then add about 800ml. of water, cover and cook over low heat for 30 minutes, turn off the heat, let it rest for another 30 minutes then filter, adjust salt; this comic will be the basis of your risotto. Place the prawns in a bowl, season with the spice Shichimi togarashi and some slices of garlic, add a drizzle of extra virgin olive oil, mix well, then cover the container and let it rest in the fridge. Put in the blender 70gr of Rucola OrtoRomi, the tuft of Basil (we recommend the Basil Fresh Aromas OrtoRomi), 1 tablespoon of almonds, 1 tablespoon grated Parmesan cheese and plenty of extra virgin olive oil, you must get a smooth cream, which will be the seasoning of our dish; at the end, set salt. Take the leek and cut into thin slices, separate them into individual rings and put them in flour. Fry quickly in plenty of extra virgin olive oil and they will be ready in a few seconds. Place them on absorbent kitchen paper and keep aside. Continue by cutting the tomato into cubes and chopping the shallots. Brown it with a drizzle of extra virgin olive oil, add the venere rice and brown it, then blend with the white wine. Gradually add the boiling cartoon and cook for about 20 minutes. Season with salt and let it rest for a few minutes before serving the food. Meanwhile, in a very hot wok, cook the prawns quickly. Composition of the dish: with the help of a round dough cup place a risotto nest in the center of the dish, place a spoonful of fried leeks and some prawns on top. Decorate around with some rocket leaves and tomato cubes, top with the rocket cream, then decorate with flaked almonds.
For this oriental and fascinating recipe, we thank our Daniela of the blog "Daniela & Diocleziano".