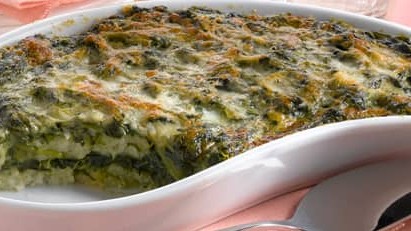 Ingredients for 4 people:
---
10 slices of bread
100g of grated Parmesan cheese
1kg of OrtoRomi Spinach
500g of mascarpone cheese
1 glass of milk
Nutmeg
Black pepper
1 leek
Extravirgin olive oil
---
Preparation time:
75 minutes
---
Preparation
Take the Spinach OrtoRomi already cleaned and washed and then put them to stew in a large pan with extra virgin olive oil and sliced ​​leek. Add salt and cook over low heat. Once the leaves are wilted, raise the flame so that the vegetables dry completely. Then proceed with the preparation of the cream: in a separate bowl then work the mascarpone with a fork until you get a thick mixture. Pour the milk in a saucepan together with the nutmeg and heat it slightly. Once the fire is extinguished, immerse yourself in the slices of panne for a few seconds so that they soften; then cover the bottom of a pan, which you will have previously buttered, with 5 slices of bread lightly soaked. Cover the latter with mascarpone cream and spinach, and finally with a layer of grated Parmesan. Repeat the operations for another layer and bake for 30 minutes at a temperature of 180 ° until you see a crispy crust on the surface. Simple to prepare and tasty, this tiramisu is ideal if served warm.