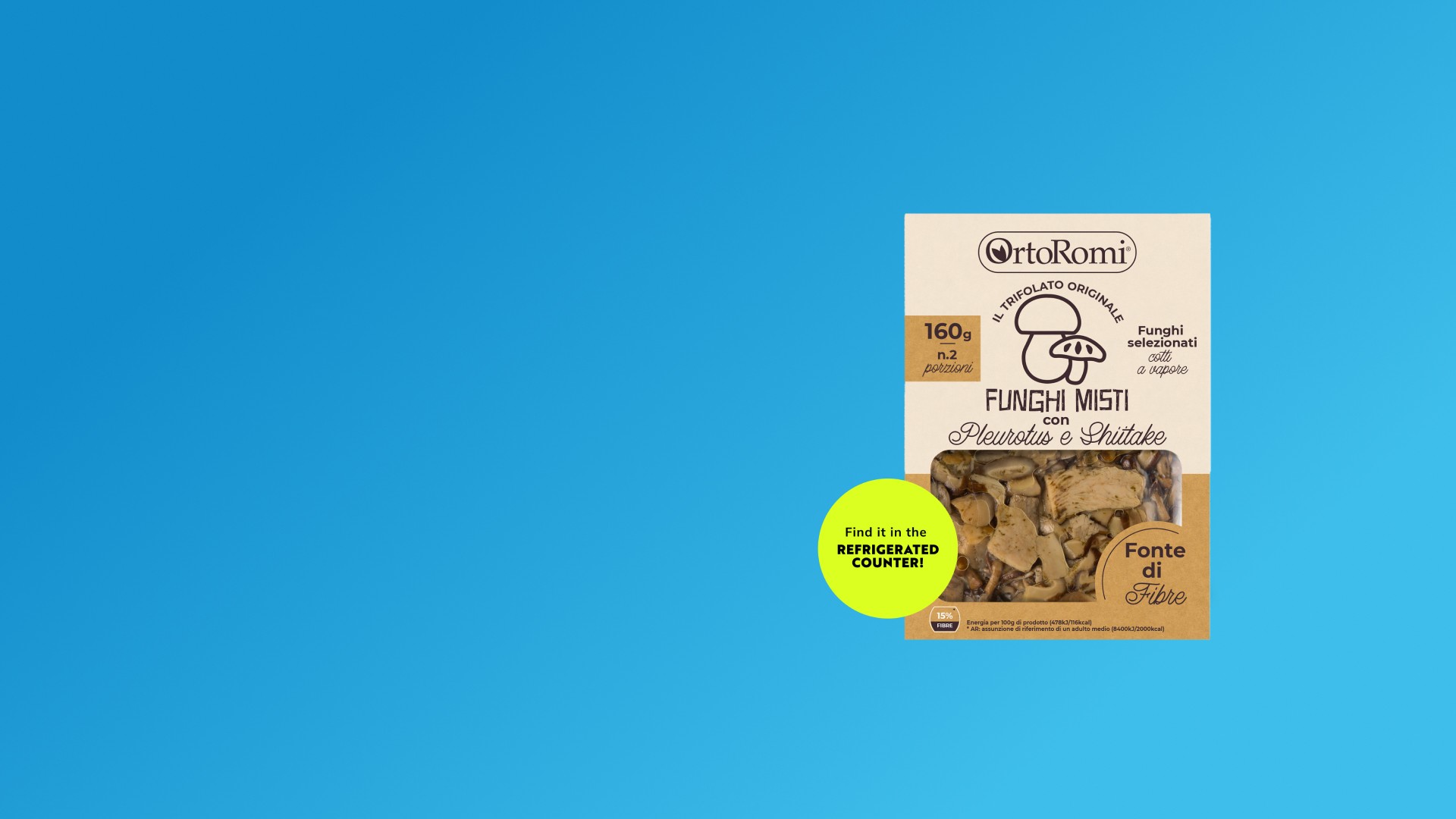 OrtoRomi
Mushrooms mix
Mix of first choice sautéed mushrooms, it combines strong and delicate flavors of Champignon, Pleurotus and Shiitake and Porcini. It is a source of fiber.
160g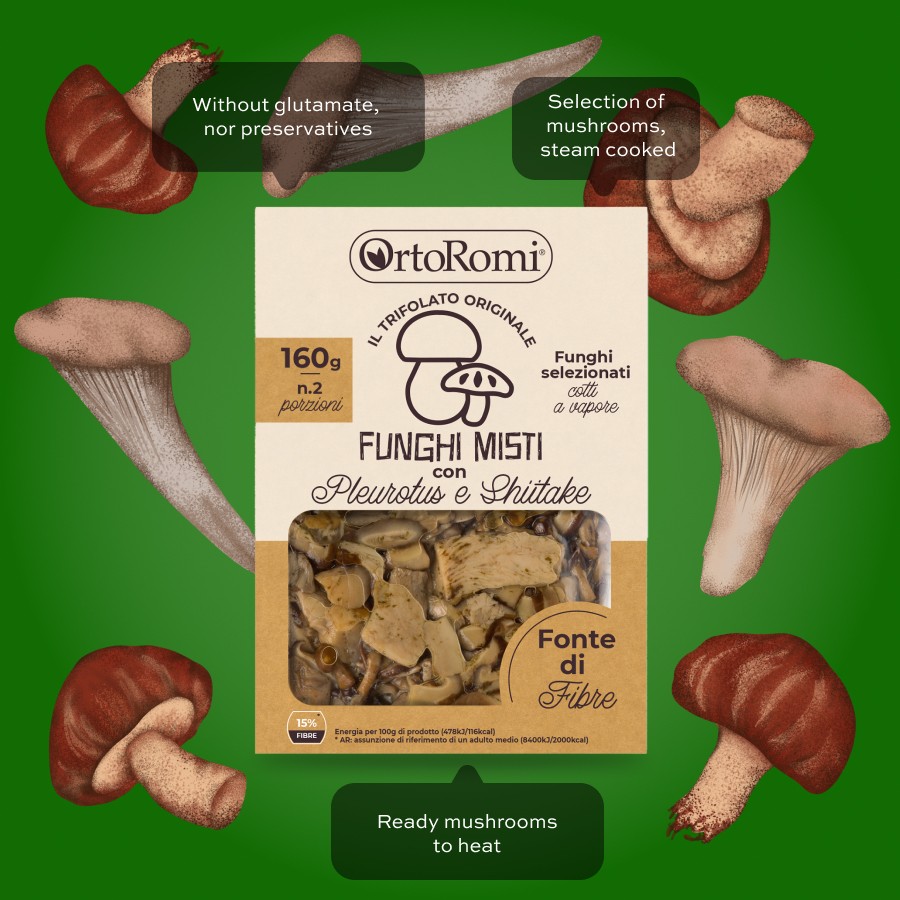 Benefits of the product
Source of fiber, this mix of mushrooms contains pleurotus also called chilblains, as it is a typically winter mushroom
Product Specifications
Pleurotus ostreatus mushrooms, Pholiota nameko mutabilis mushrooms, shiitake mushrooms, sunflower oil, chopped porcini mushrooms, parsley, garlic, flavorings, white wine, salt, pepper, ascorbic acid, tartaric acid.
High quality mushrooms
High quality selected mushrooms, source of fibers
---
No glutamate nor preservative
Without any glutamate nor preservatives. An homemade dish ready to taste
---
100% recyclable packaging
From plastic, as from glass and paper, it is possible to give life to a new object, if given in the appropriate bins. Learn to differentiate and change our lifestyle, giving new life to waste
---
Ready to heat mushrooms
In a pan: 4 minutes over medium heat while stirring. In the microwave, once the film is pierced: 1 minute at 750W. It is not necessary to drain the product
---
Up to 4H out of the refrigerator
Please store this product in the refrigerator, in order to respect the cold chain
(Average values per 100g)
---
---
Fat
10,7 g di cui acidi grassi saturi 1,7 g
---
Carbohydrates
0,7 g di cui zuccheri 0,2 g
---
---
---
---
---
kitchen ideas
Endless opportunities to get to know the best products for an always tasty and healthy diet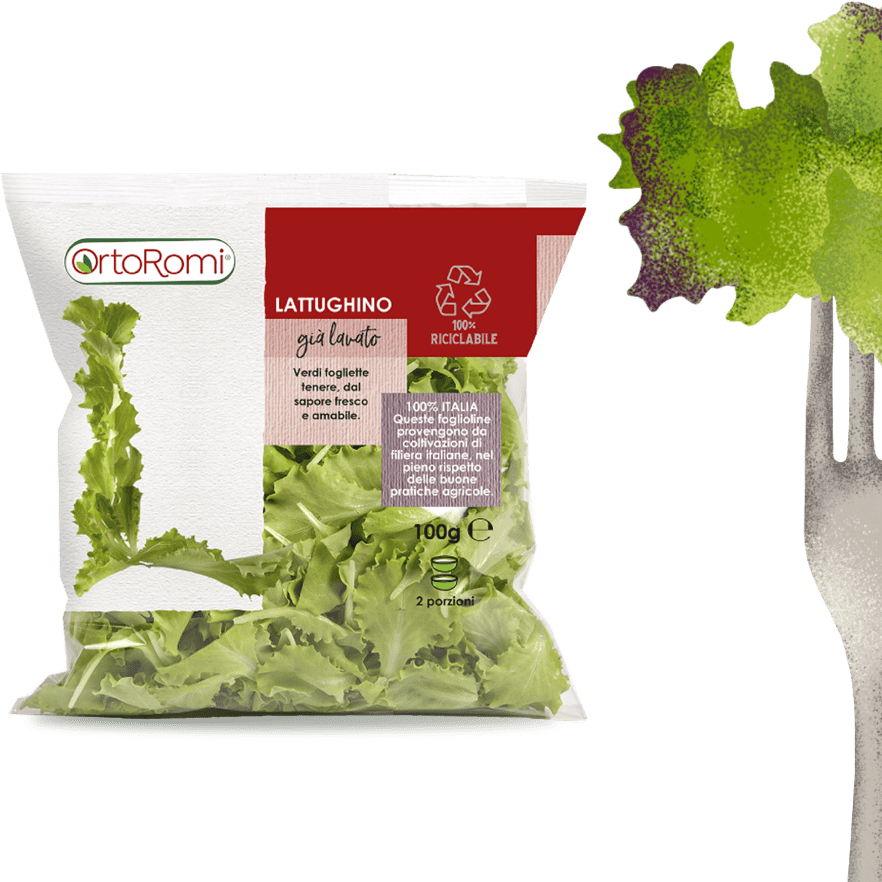 OrtoRomi
Freshness
We are committed every day to safeguarding nature by reducing our impact on the environment and the resources waste at every stage of production: in the work we do in our farms, in the cultivation techniques we use on the lands and in the selection of raw materials. But we did something more: we created completely edible products, without any waste, packed in 100% recyclable packaging mostly made with recycled materials.
Discover our values