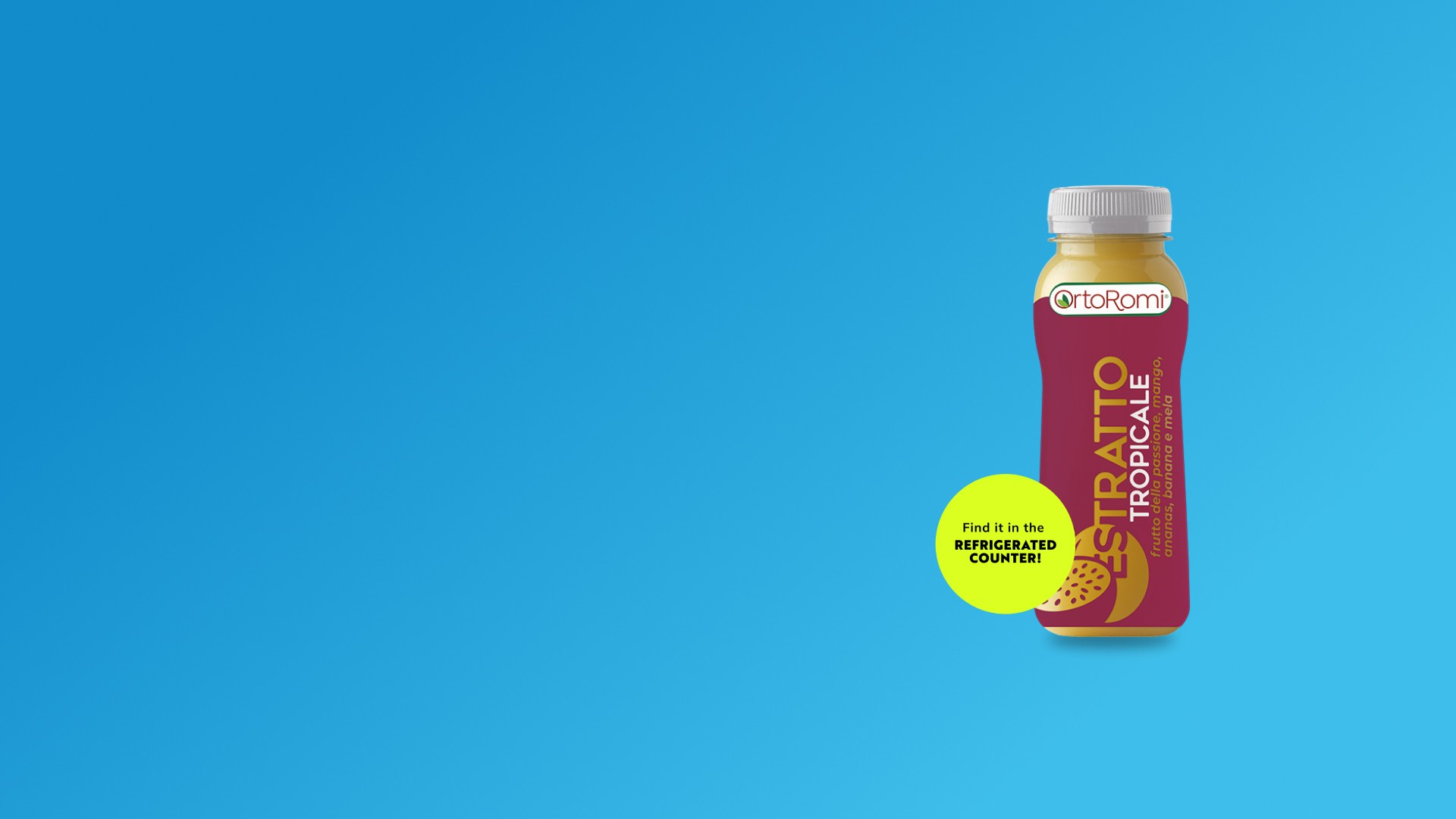 OrtoRomi
Tropical
Without preservatives or dyes, the Tropical slow juice is ideal for quenching your thirst and maintaining the right water balance in a fresh and light way: 100 mL of extract gives only 57 Kcal and not even a gram of fat.
250ml and 500ml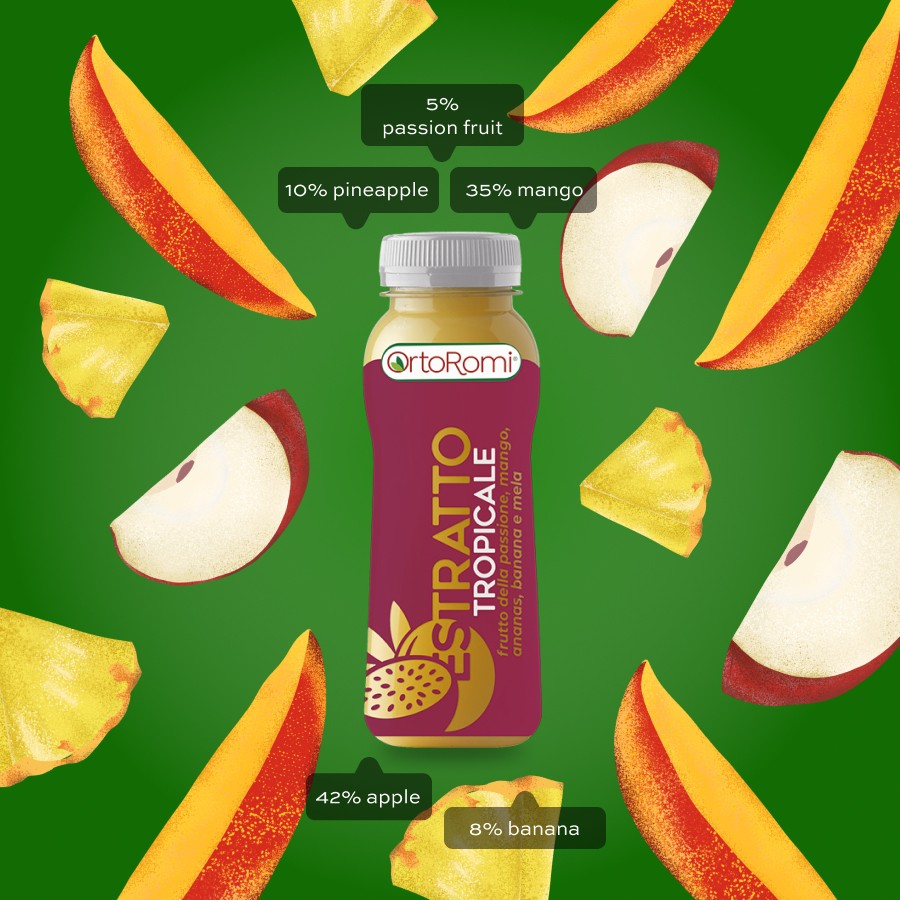 Benefits of the product
Passion fruit, with its aroma as pleasant as it is intense, is a low-calorie fruit rich in pectin, a highly satiating fiber. Banana, an excellent source of energy, thanks to its potassium content prevents muscle cramps.
Product Specifications
Apple 42%, mango 35%, pineapple 10%, banana 8%, passion fruit 5%
Fresh fruit and vegetables
Cold pressed fruit and vegetables. Without any water, sugar, colorants nor preservatives
---
Up to 4H out of the refrigerators
Please store this product in the refrigerator, in order to respect the cold chain (may stay up to 4hrs outside the fridge)
---
Suitable for a vegan lifestyle
Suitable for a vegan lifestyle
---
100% recyclable packaging
Why we use plastic instead of glass? Because our slow juices are HPP processed. Glass bottles would not resist the required pressure in order to not activate pathogenic micro-organisms
---
HPP processed
Intact organoleptic qualities and nutritional properties, thanks to High Pressure Processing (HPP)
(Average values per 100g)
---
---
Fats
<0,5 g of which fatty acids <0,1 g
---
Carbohydrates
13,3 g of which sugars 10,0 g
---
---
---
---
---
kitchen ideas
Endless opportunities to get to know the best products for an always tasty and healthy diet
kitchen ideas
Published 1 Month Ago
Secondi piatti di verdure: i più veloci da preparare
Possono essere una scelta vegetariana, ma non solo. I secondi piatti di verdure sono sempre un'ottima alternativa a carne e pesce. Ecco i più veloci da preparare
Find More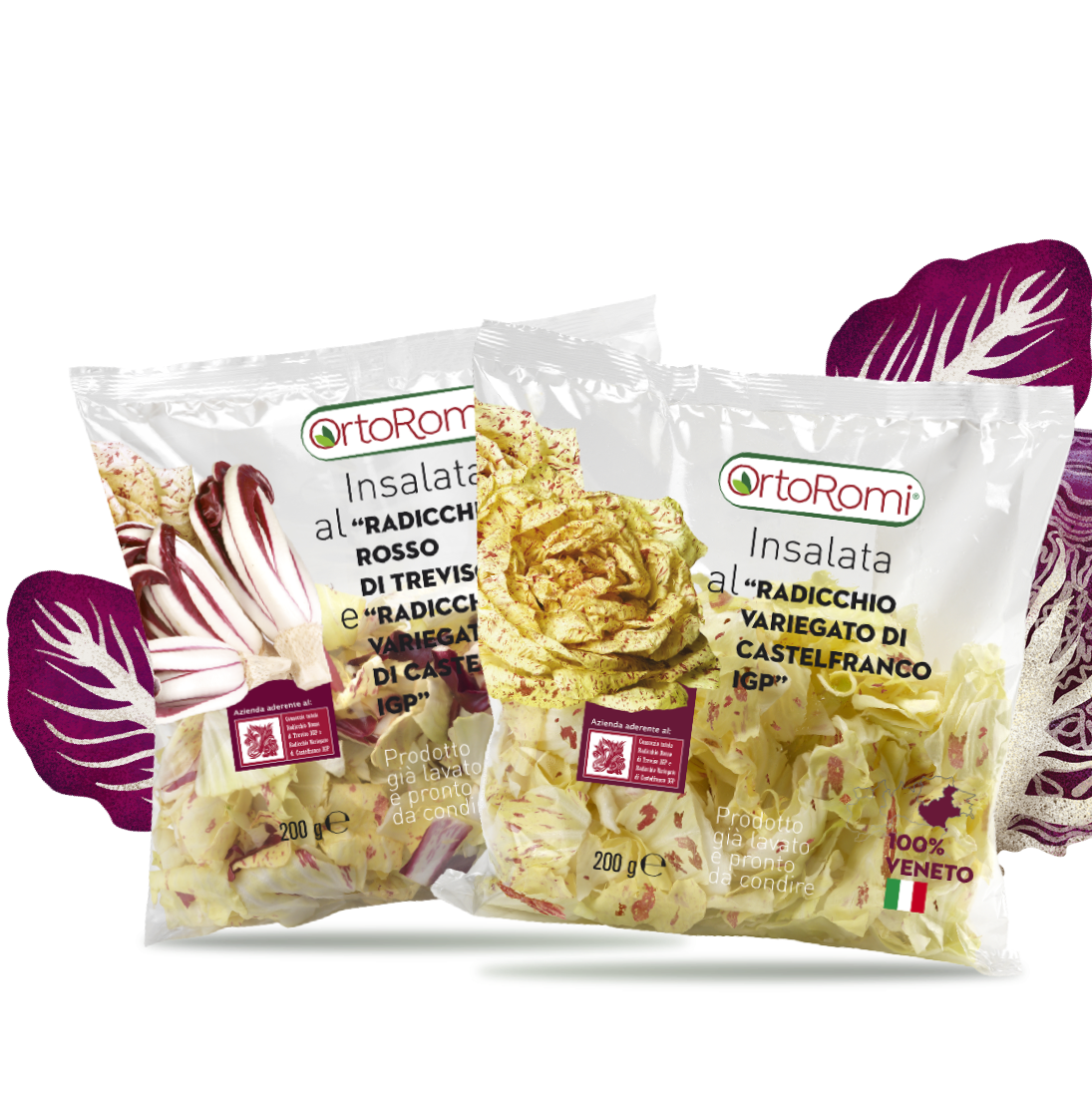 OrtoRomi
Transparency
Quality and authenticity without forgetting the taste. We guarantee you top quality products that preserve all the properties of the raw materials from which they are born. These products have a natural and genuine taste, because they are made with the best fruit and vegetables available. Our quality commitment throughout the supply chain ensures that our products meet your needs as an attentive and aware consumer but also as a good food lover.
Discover our values