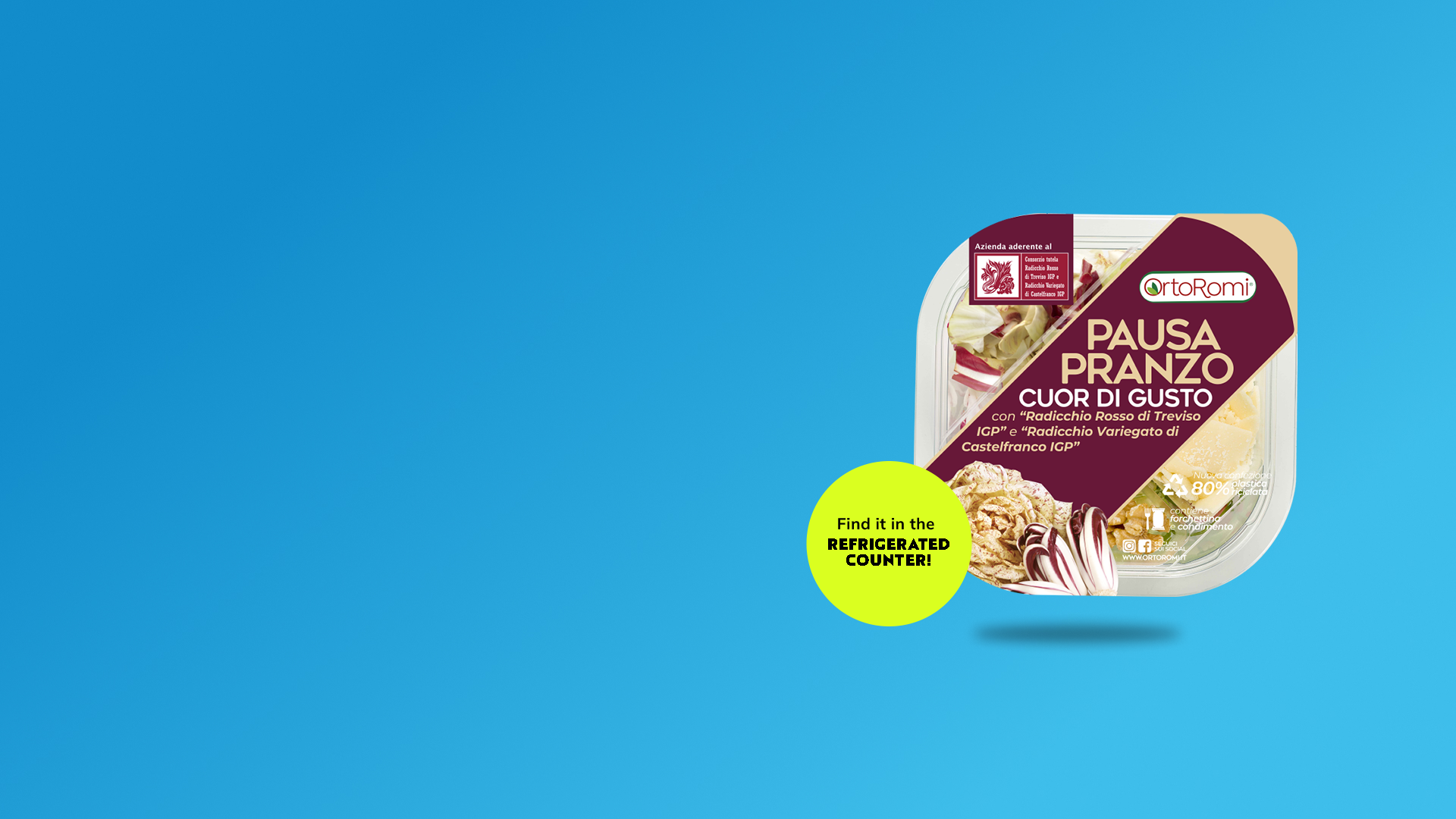 OrtoRomi
Cuor di gusto bowl
Delicious bowl with a mix of P.G.I. Radicchios with an addition of grana cheese and nuts.
145g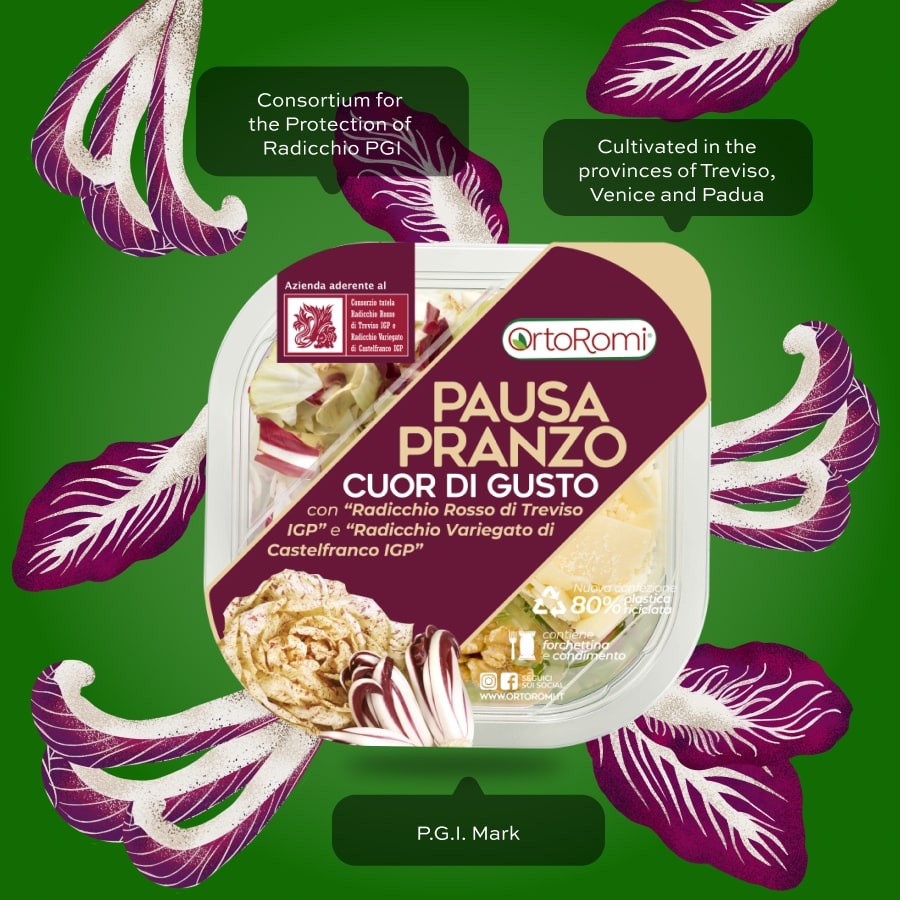 Benefits of the product
Red radicchio is rich in mineral salts, while among the vitamins it is a source of vitamin C. While variegated radicchio is rich in iron, phosphorus, magnesium and calcium. It is also a source of vitamins A, B2, C and PP
Product Specifications
P.G.I. Radicchio rosso di Treviso Tardivo (35,5%), P.G.I. Radicchio Variegato di Castelfranco (35,5%), grana padano cheese (16%), nuts (13%) + dressing kit (salt, extra virgin olive oil, P.G.I. balsamic vinegar of Modena + napkin and little fork).
guaranteed quality
Its excellence is guaranteed by simple and natural secrets: seeds selection, seeding and harvest techniques, which provide a slow and hard-working process, as provided by the P.G.I. Radicchio Consortium
---
Geographical indication
Harvested in north-east Region of Veneto, in the provinces of Treviso, Venice and Padua
---
To be stored in the refrigerator
Please store this product in the refrigerator, in order to respect the cold chain
---
Suitable for a vegan lifestyle - 100% Vegan
Suitable for a vegan lifestyle
---
guaranteed quality
OrtoRomi Radicchio obtained the European recognition of Protected Geographical Indication (P.G.I.), in order to preserve and guarantee its extraordinary quality
---
Fresh cut salad
Radicchio I.G.P. ready to eat fresh cut salad
---
100% recyclable packaging
From plastic, as from glass and paper, it is possible to give life to a new object, if given in the appropriate bins. Learn to differentiate and change our lifestyle, giving new life to waste
(Average value per 100g)
---
---
Fats
12,1 g of which fatty acids 2,8 g
---
Carbohydrates
2,3 g of which sugars 1,8 g
---
---
---
---
---
kitchen ideas
Endless opportunities to get to know the best products for an always tasty and healthy diet
kitchen ideas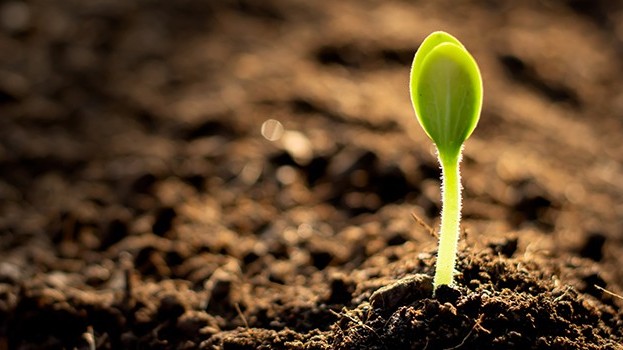 Published 3 years Ago
Cosa significa prodotto I.G.P. e D.O.P?
Facendo la spesa, tutti notiamo che alcuni prodotti agroalimentari sono contrassegnati da marchi come I.G.P., acronimo di "Indicazione Geografica Protetta", e D.O.P., "Denominazione di Origine Protetta". I marchi di qualità sono certificazioni riconosciute dal...
Find More
kitchen ideas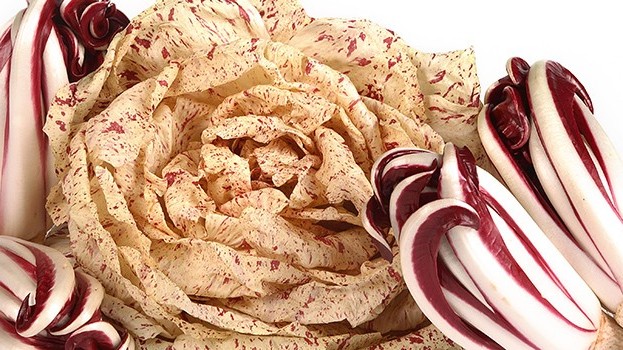 Published 3 years Ago
Tipi di radicchio: differenza tra radicchio di Treviso, di Castelfranco e altre varietà
Preziosa fonte di vitamine, fibre e sali minerali, il radicchio è molto apprezzato per il suo sapore delicatamente amarognolo e per la sua grande versatilità d'uso in cucina. È un ortaggio che a seconda della tipologia è disponibile tutto l'anno, ma il periodo...
Find More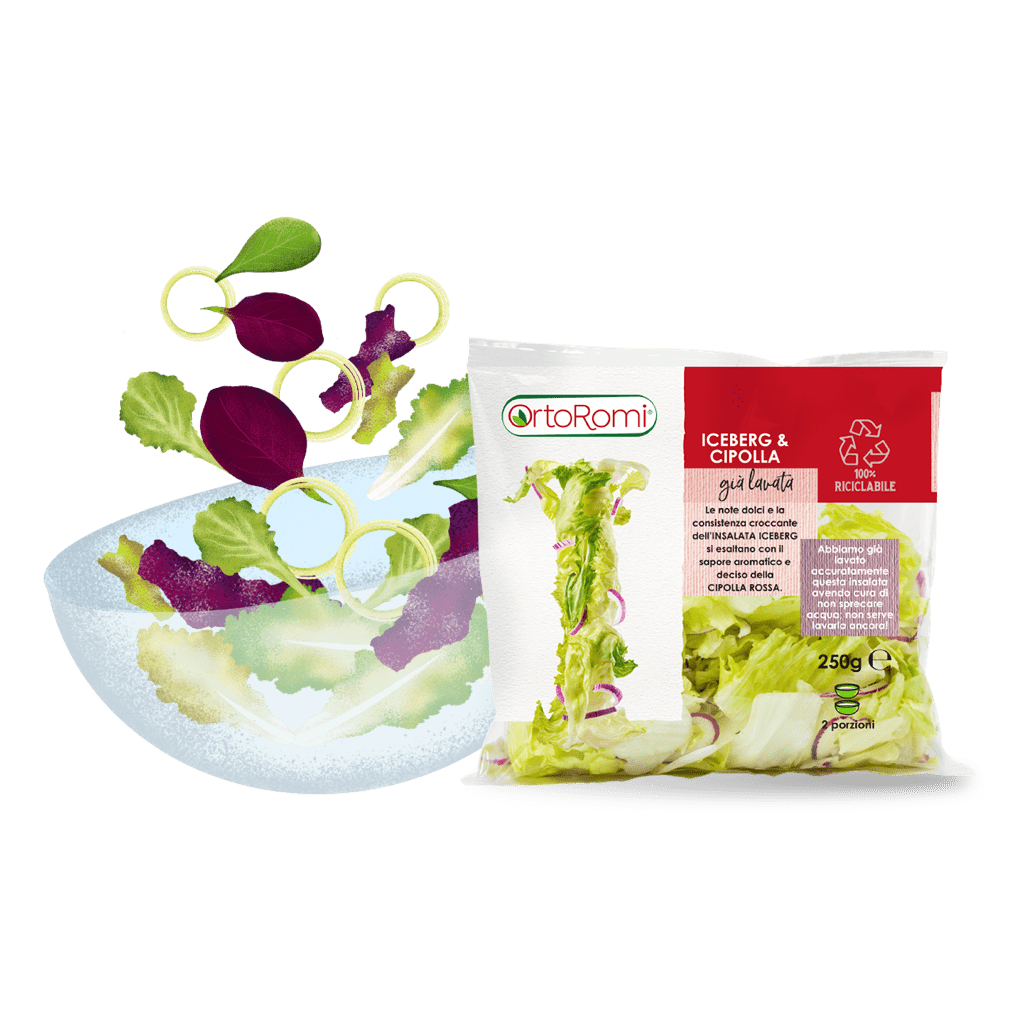 OrtoRomi
Healthy and ready to eat
Honesty, passion, commitment and dedication are the human values ​​shared by all the women and men working in our cooperative. We look to future generations starting from our history and our identity, placing our sense ​​of service and our know-how at the leading principle of the promise we make you every day as a citizen and consumer.
Discover our values