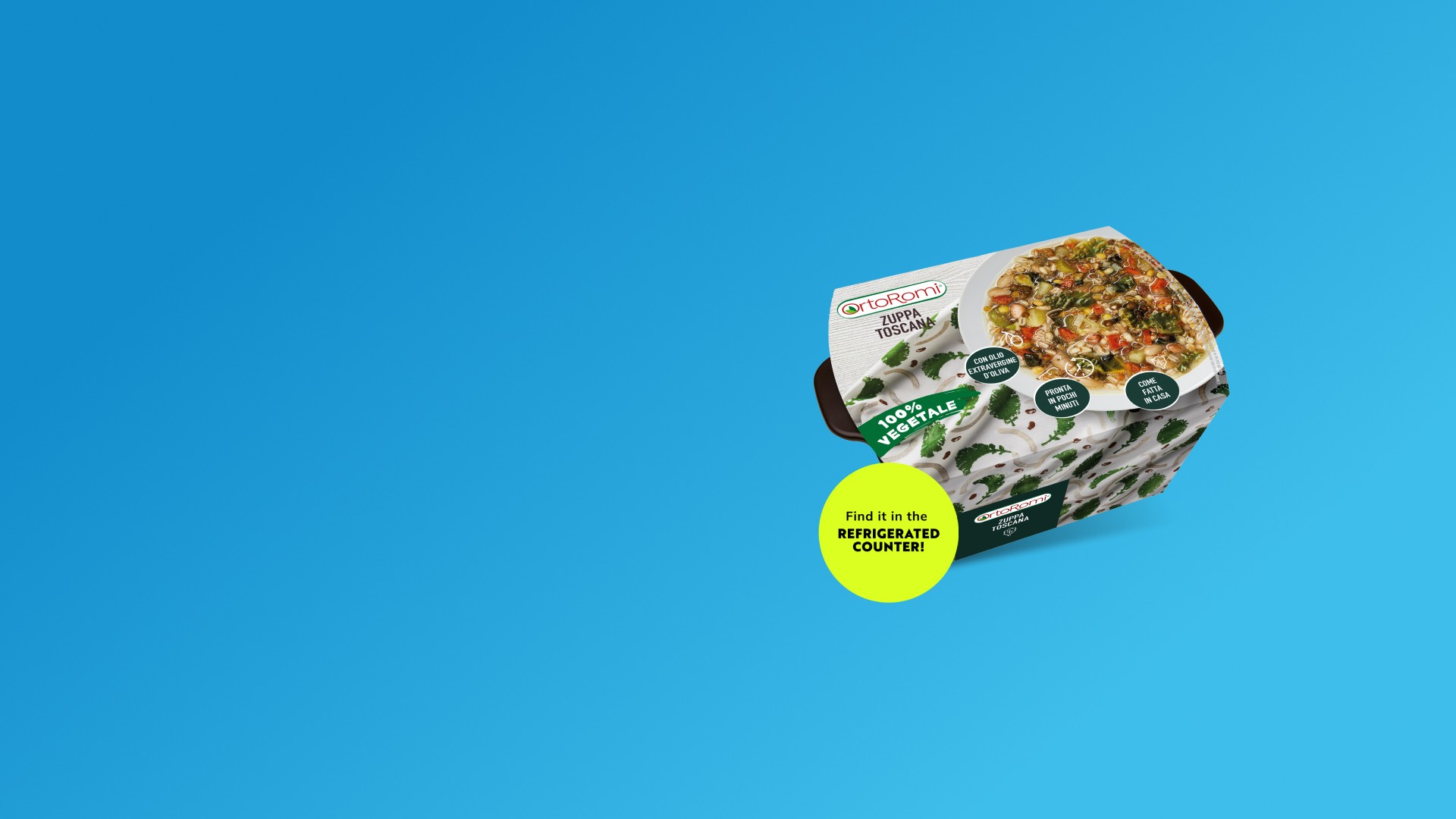 OrtoRomi
Toscana soup with kale
From the Tuscan tradition, a vegetable soup with only top quality ingredients, controlled by the OrtoRomi Cooperative. Like homemade.
310g and 620g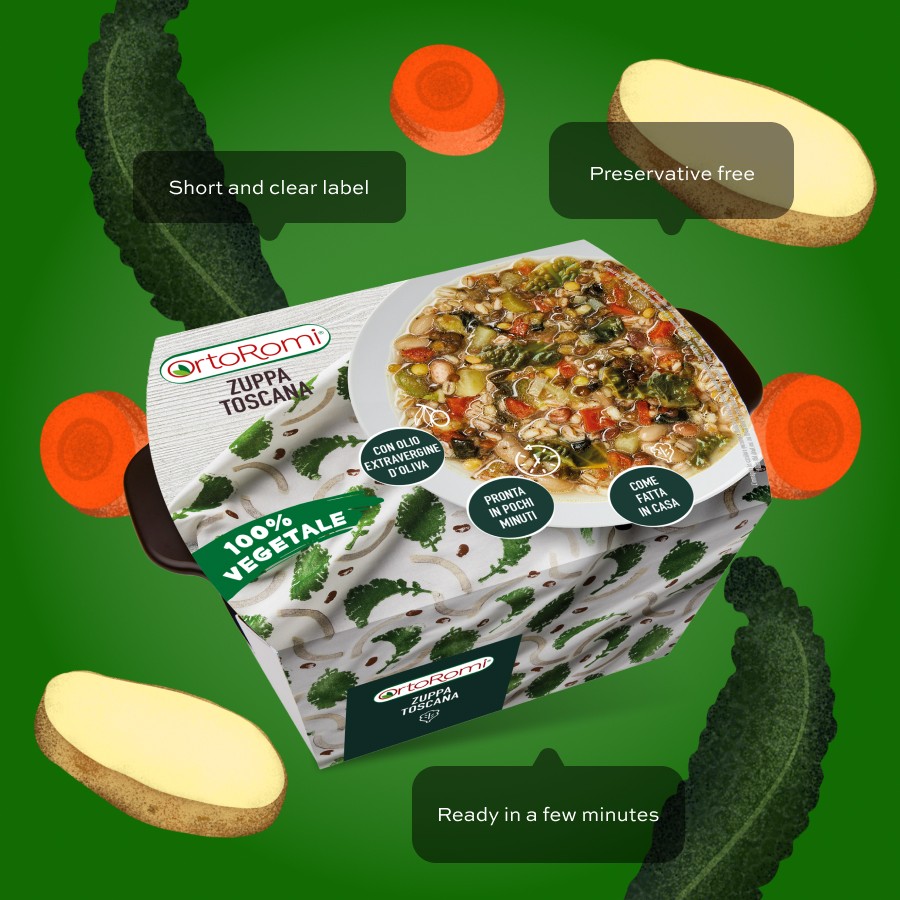 Benefits of the product
Grass pea are legumes containing a good amount of fiber and vegetable proteins. They also contain some B vitamins and important mineral salts, such as potassium and phosphorus. Peas are legumes and contain B vitamins, vitamins C and A. Broad beans are also a source of copper, magnesium and other min ...
Product Specifications
Water, potatoes, kale, grass pea, cannellini beans, lentils, leek, borlotti beans, spelt, barley, chard, onion, extravirgin olive oil, celery, spinach, salt, laurel, rosemary and thyme.
May contain traces of cereals containing gluten, milk and milk products, sulphur dioxide and fish.
Fresh soup
High quality ingredients for a fresh soup, to be stored in the refrigerator once purchased
---
Ready to heat fresh soup
In a pot: 5 minutes while stirring. In the microwave, once the film is removed: 4 minutes at 900w, mixing after 2 minutes
---
100% recyclable packaging
From plastic, as from glass and paper, it is possible to give life to a new object, if given in the appropriate bins. Learn to differentiate and change our lifestyle, giving new life to waste
---
No glutamate nor preservatives
Without any glutamate nor preservatives. An homemade dish ready to taste
---
Easy-peel
Easy-peel film, without the aid of a knife
(Average values per 100g)
---
---
Fats
2,2 g of which fatty acids 0,4 g
---
Carbohydrates
13,2 g of which sugars 1,5
---
---
---
---
---
Recipes OrtoRomi
Endless opportunities to get to know the best products for an always tasty and healthy diet
Recipes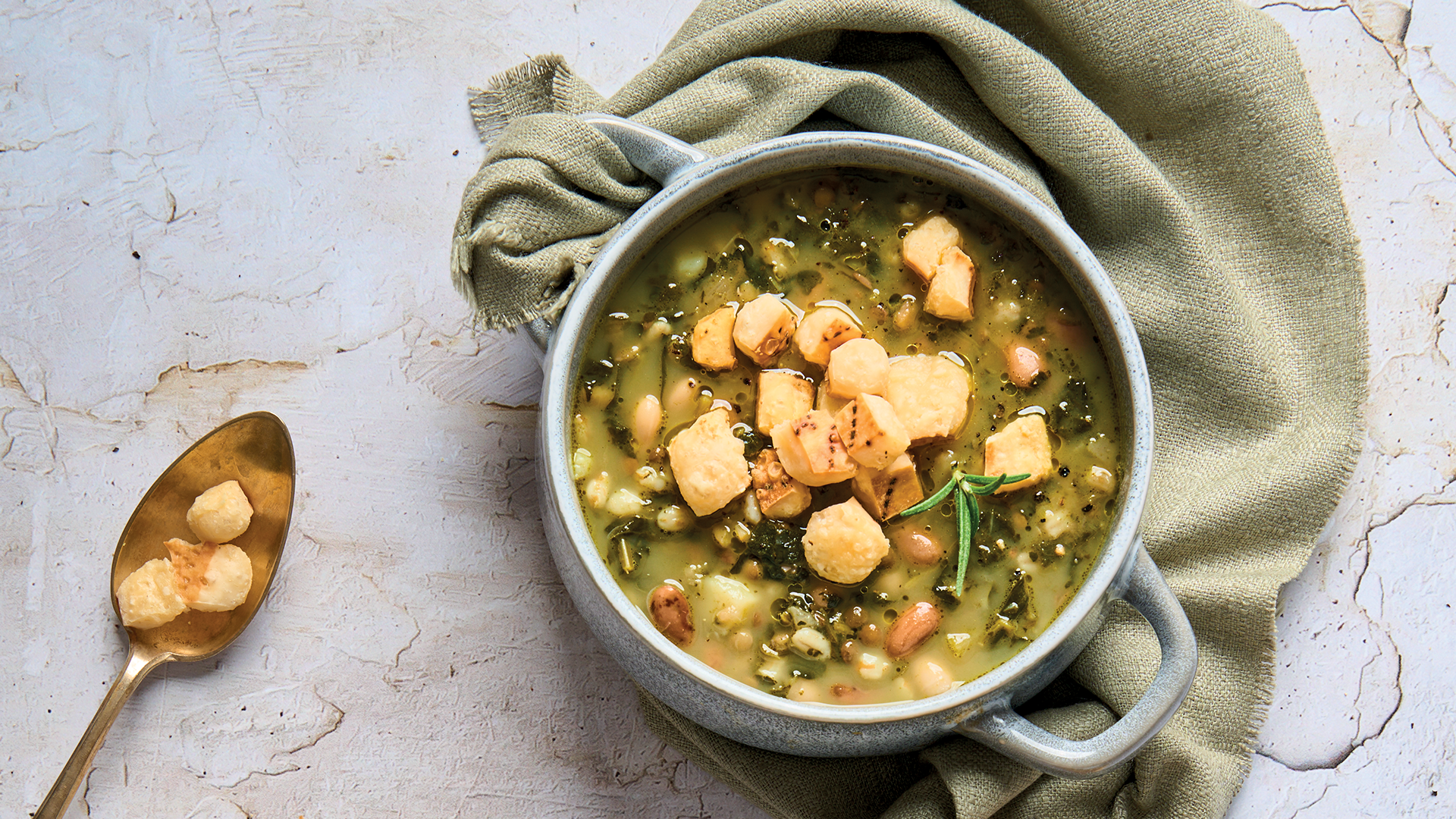 Published 8 Months Ago
Tuscan soup with Grana Padano's pop corn
Ready-to-eat Tuscan soup from OrtoRomi revisited in a gourmet key with delicious Grana Padano crust popcorn. OrtoRomi: an ally in the kitchen.
Find More
kitchen ideas
Endless opportunities to get to know the best products for an always tasty and healthy diet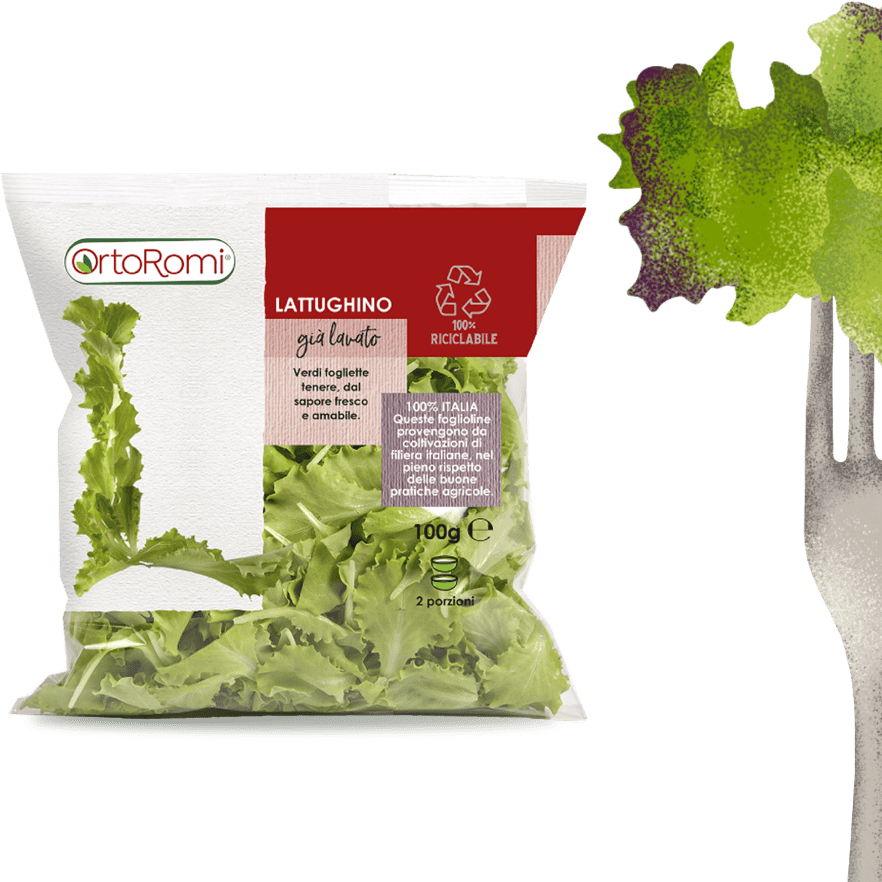 OrtoRomi
Freshness
We are committed every day to safeguarding nature by reducing our impact on the environment and the resources waste at every stage of production: in the work we do in our farms, in the cultivation techniques we use on the lands and in the selection of raw materials. But we did something more: we created completely edible products, without any waste, packed in 100% recyclable packaging mostly made with recycled materials.
Discover our values