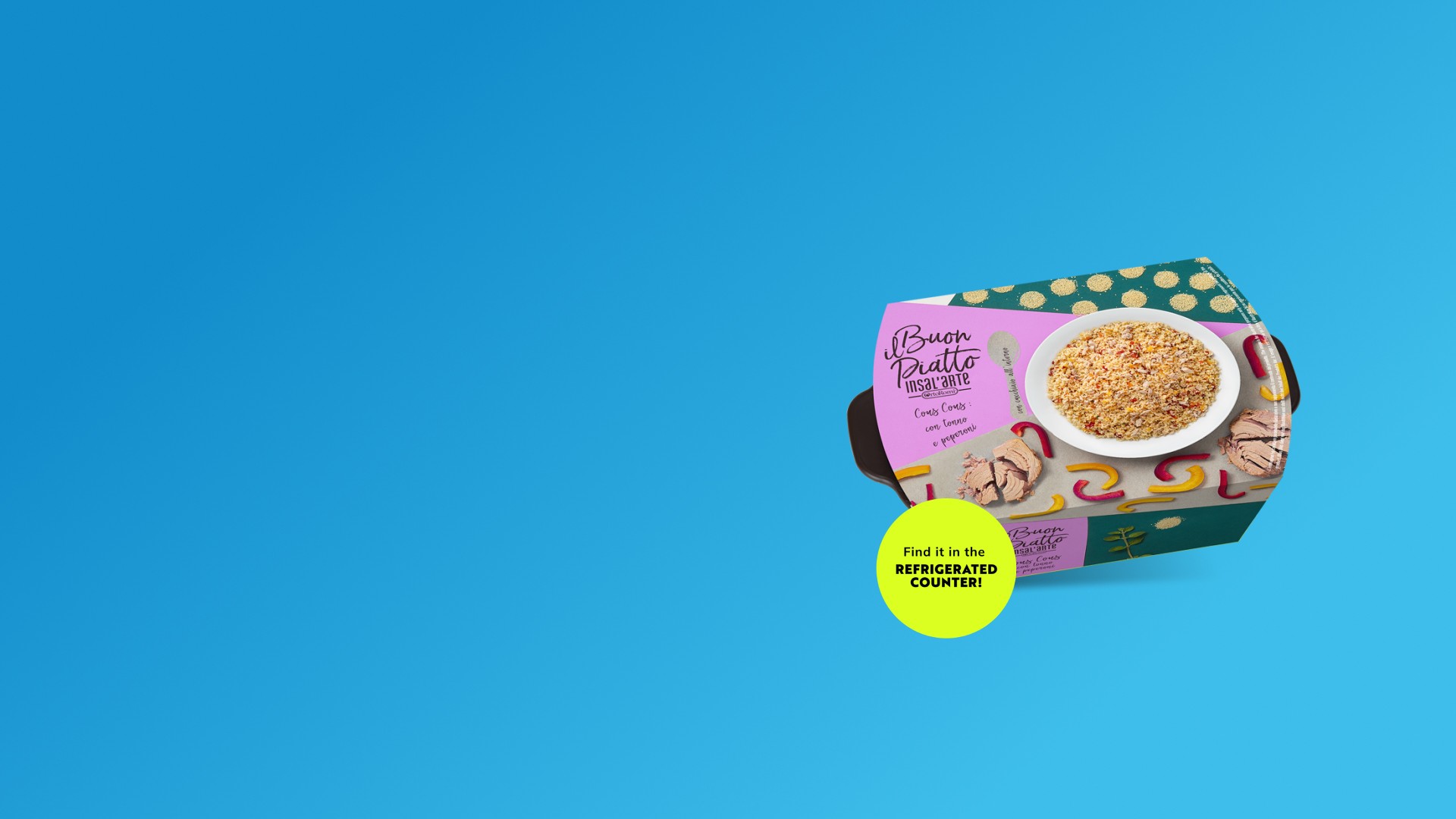 OrtoRomi
Cous Cous with tuna and peppers
From the oriental tradition, a ready dish with cous cous, fresh peppers and tuna for a complete and balanced meal.
220g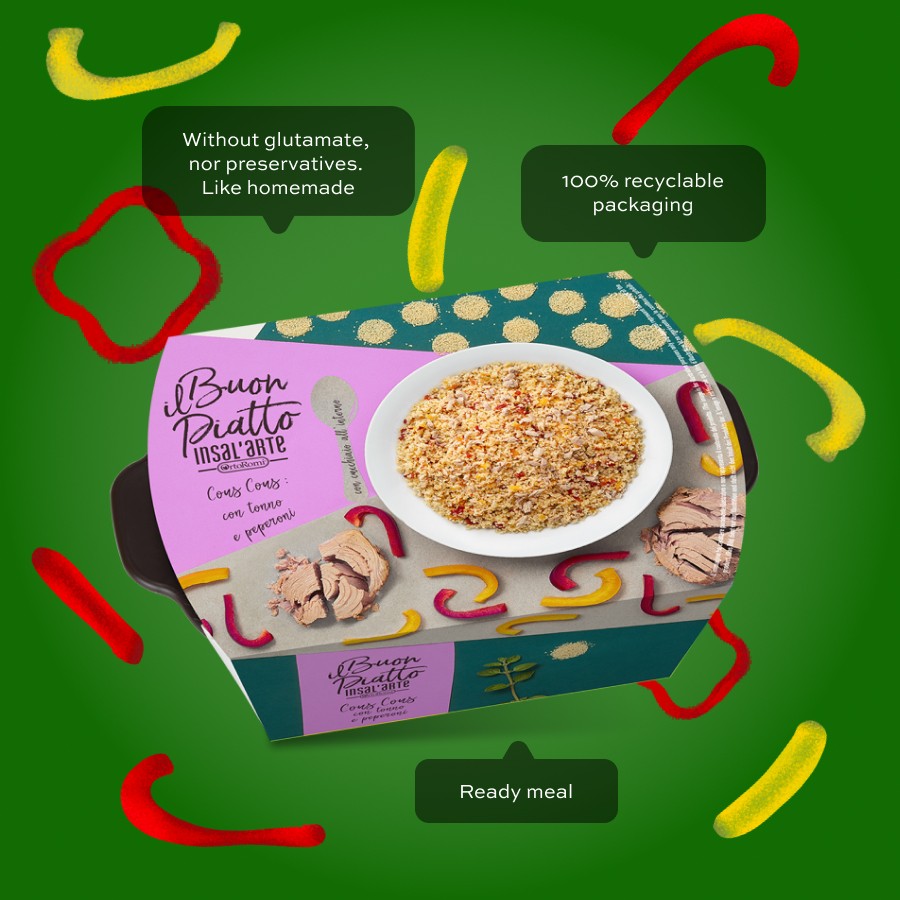 Benefits of the product
Tuna is an excellent source of protein and omega 3 fatty acids. Couscous or couscous is an excellent solution for quick meals, thanks to its high caloric value.
Specifiche del prodotto
31% Cous cous, 21% yellow peppers, 21% red peppers, 13% tuna, onion, extravirgin olive oil, salt and 0,4% oregano.
May contain traces of milk and milk products, sulphur dioxide and celery.
Ready to eat meal solution
High quality ingredients for a ready to eat meal, to may be enjoyed warm or straight from the refrigerator. A practical spoon and napking is included
---
Easy-peel
Easy-peel film, without the aid of a knife
---
No glutamate nor preservatives
Without any glutamate nor preservatives. Like a homemade side dish
---
100% recyclable packaging
From plastic, as from glass and paper, it is possible to give life to a new object, if given in the appropriate bins. Learn to differentiate and change our lifestyle, giving new life to waste
(Average values per 100g)
---
---
Fat
8,2 g of which saturated fat 1,3 g
---
Carbohydrates
24,6 g of which sugar 3,3 g
---
---
---
---
---
kitchen ideas
Endless opportunities to get to know the best products for an always tasty and healthy diet
kitchen ideas
Published 2 years Ago
Cos'è il bulgur? La tradizione mediorientale
Con l'esotico nome bulgur si indica una miscela di grani duri prodotti a partire da frumento integrale, che viene fatto germogliare, cotto a vapore, essiccato e infine macinato. In base al tipo di macinatura si suddivide il bulgur in tre diverse categorie: que...
Find More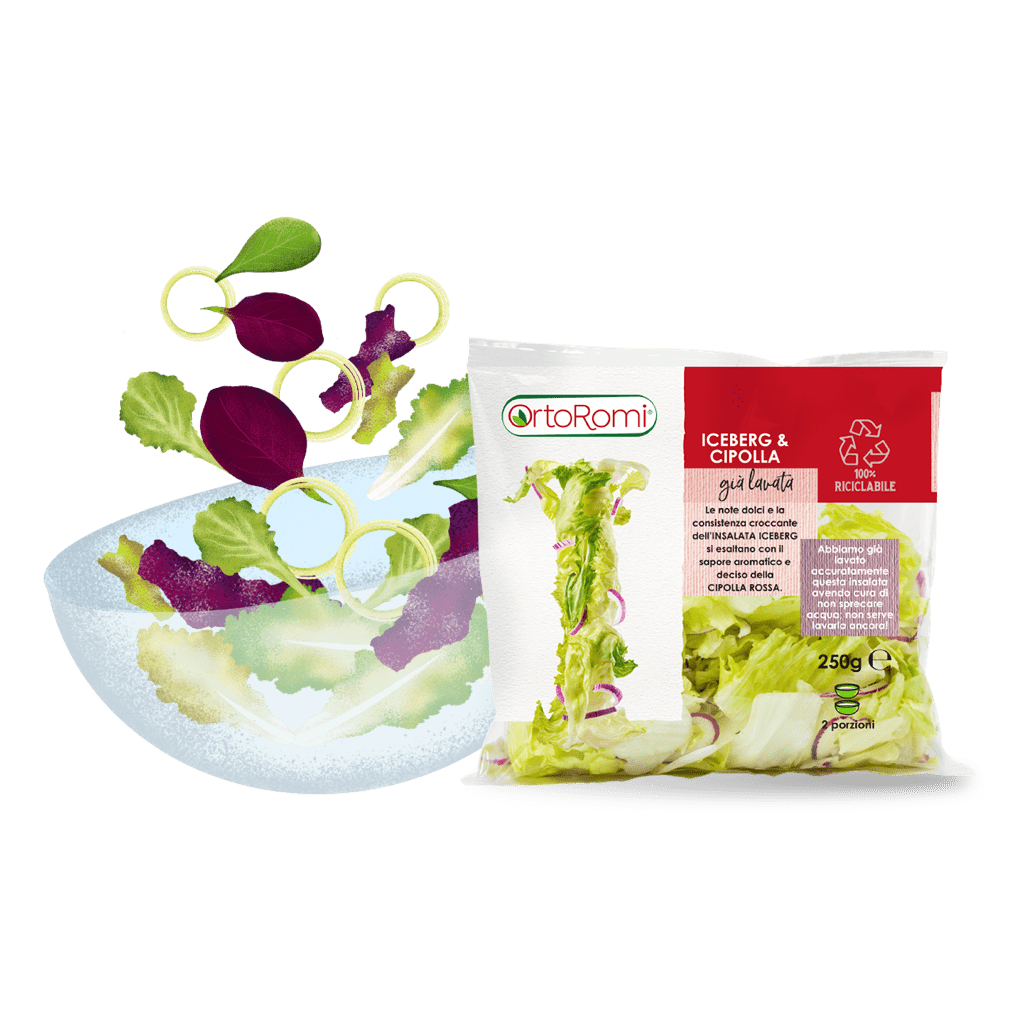 OrtoRomi
Healthy and ready to eat
Honesty, passion, commitment and dedication are the human values ​​shared by all the women and men working in our cooperative. We look to future generations starting from our history and our identity, placing our sense ​​of service and our know-how at the leading principle of the promise we make you every day as a citizen and consumer.
Discover our values