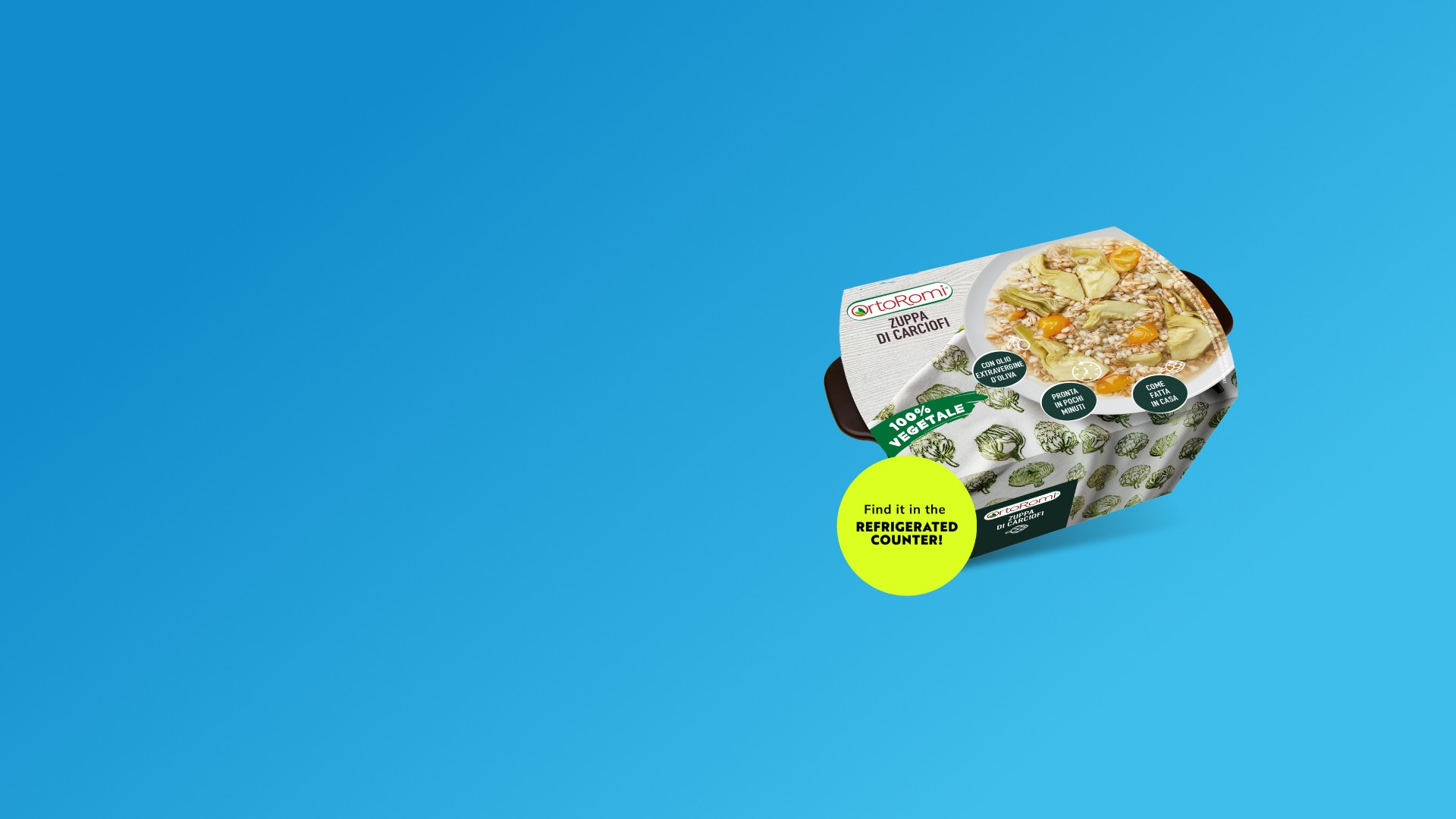 OrtoRomi
Artichokes soup
Soup based on artichokes, lentils and cereals, ideal for a light meal, but rich in nutrients. To be heated for a few minutes in a pot or in the microwave before enjoying.
310g and 620g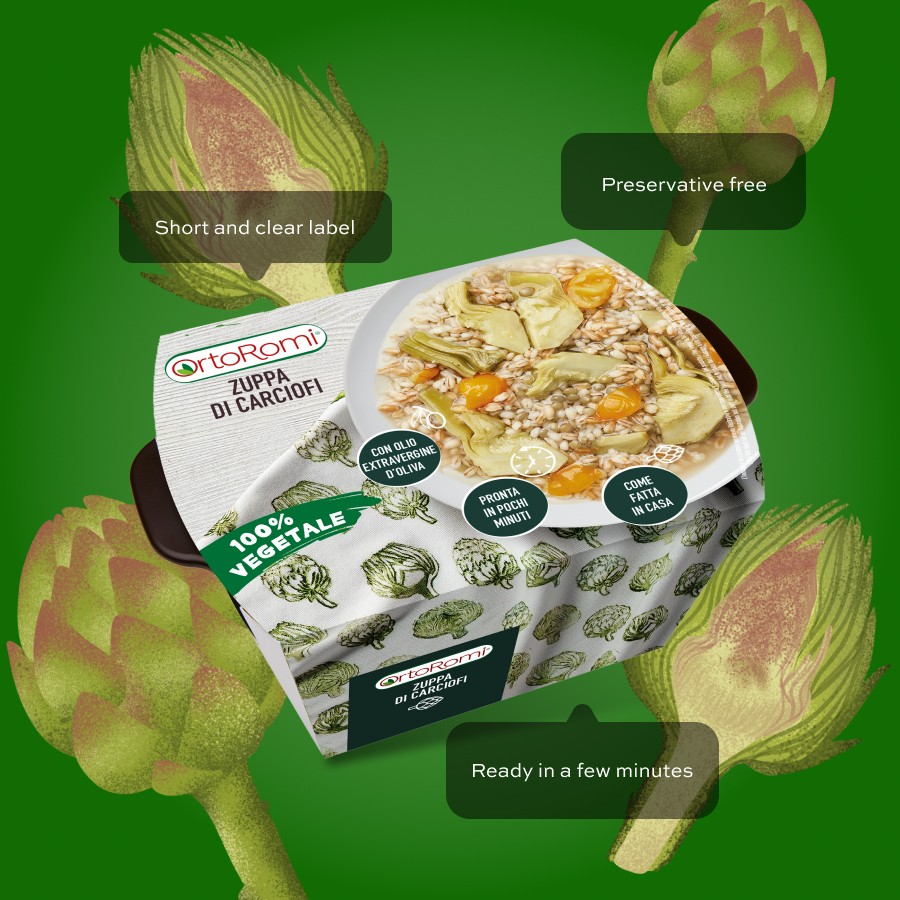 Benefits of the product
Artichokes are rich in vitamin C and other minerals, such as potassium and magnesium. Lentils, on the other hand, are legumes rich in proteins and iron.
Product Specifications
Water, 15% artichokes, 10% lentils, 6% cereals (pearled barley and pearled spelt), onion,
extravirgin olive oil, yellow tomato, salt and garlic.
May contain traces of milk and milk products, sulphur dioxide, fish and celery.
Fresh soup
High quality ingredients for a fresh soup, to be stored in the refrigerator once purchased
---
Ready to heat fresh soup
In a pot: 5 minutes while stirring. In the microwave, once the film is removed: 4 minutes at 900w, mixing after 2 minutes
---
100% recyclable packaging
From plastic, as from glass and paper, it is possible to give life to a new object, if given in the appropriate bins. Learn to differentiate and change our lifestyle, giving new life to waste
---
No glutamate nor preservatives
Without any glutamate nor preservatives. An homemade dish ready to taste
---
Easy-peel
Easy-peel film, without the aid of a knife
(Average values per 100g)
---
---
Fats
2,8 g of which fatty acids 0,4 g
---
Carbohydrates
9,9 g of which sugars 0,8 g
---
---
---
---
---
kitchen ideas
Endless opportunities to get to know the best products for an always tasty and healthy diet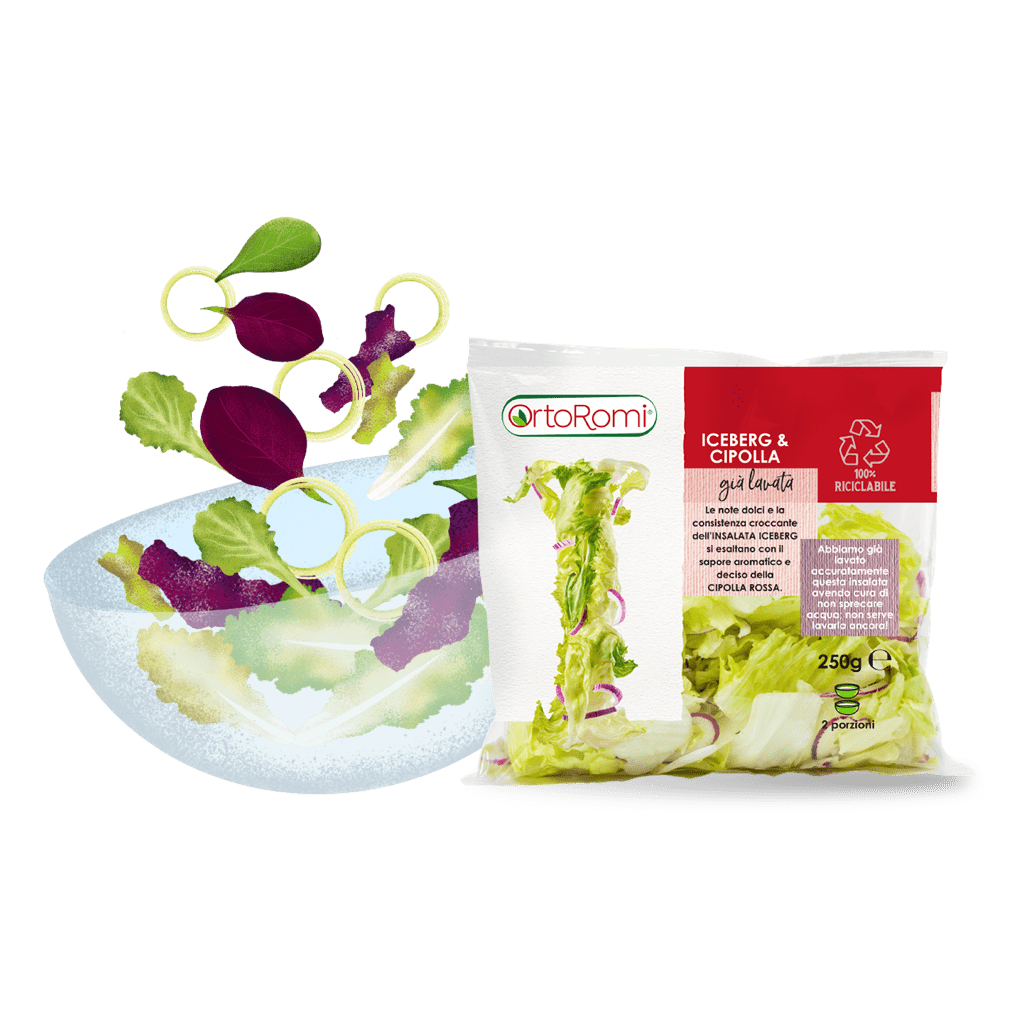 OrtoRomi
Healthy and ready to eat
Honesty, passion, commitment and dedication are the human values ​​shared by all the women and men working in our cooperative. We look to future generations starting from our history and our identity, placing our sense ​​of service and our know-how at the leading principle of the promise we make you every day as a citizen and consumer.
Discover our values